Bringing up a dog is no easy job. From the fixed food timings to the daily walks that you must take them on and the regular vet checkups. Oh, and don't forget their bath timings! Just like you would take extra care to raise a child, equal attention is needed for a dog as well. However, all those things, as mentioned earlier, are very manageable.
There comes an issue when you have to live your life as well as take care of your pet. That seems to be the biggest problem for busy bodies who never know how to juggle or handle these two aspects of their life together; their schedule and their pets.
This usually occurs because not only do you have to take care of your pet dog 24/7 but also because dogs are prone to developing a condition named separation anxiety.
Symptoms of this condition include the dog howling for hours in the end after your departure, inconsistent, and sudden defecation around the house out of stress. This is a common issue that occurs with many pets because of the sudden disappearance of their owners. The more time their owners spend away, the worse the state of the pet gets. It is very understandable and common, not a big deal to worry about. Any living thing, human or animal will face "withdrawals" from spending time away from their loved ones. And your dog loves you the most!
There is, of course, a cure for this awfully distressing condition. Today you will be getting to know all about the best dog toys for separation anxiety. But first, let's get into some details:
What Is Dog Separation Anxiety?
Dogs are known to be man's greatest friend, no? Naturally, when they get extremely attached to their owners, they tend to feel a sense of panic whenever their masters aren't around. It is exactly like when a child is left without their parents in a supermarket. Dogs view their owners just as preciously as children do their parents.
Dogs who suffer from separation anxiety will make it a big deal to follow you around wherever you go and show high panic levels if you leave them. They will resume their normal behavior once you return.
Symptoms of Dog Separation Anxiety
You don't need a vet to tell you that your dog suffers from separation anxiety. In fact, if there were psychiatrists for dogs, their help would still not be needed. Here are some symptoms of this condition that you can diagnose yourself as you know your dog best:
Pacing all the time
Intense howling and barking
Incessant panting and salivating
Destructive behavior (chewing up cloth, shoes, and furniture)
Pooing or peeing more than usual
Escape attempts from wherever they are confined
Watch below video for my explanation from Greg MacDonald, DVM:
How to Use Dog Toy For Separation Anxiety
There is a miraculous solution for your dog's acute anxiety, and that is dog separation anxiety toys. They are therapeutic in their ways as they are administered and given to the dog in a specific manner. The method of introducing anxiety toys for dogs is essential, for if done in the right way, it will work wonders.
How To Utilize Dog Separation Anxiety Toy
In the state of panic, your dog will be suffering from high levels of anxiety and will hardly be sparing a single thought towards a dog anxiety toy. Which is why you have to introduce the toy to the dog yourself.
In that way, your pet can establish a connection with the dog toy for separation anxiety, and when you are not around, he/she will seek comfort from the toy. Not just that, but the toys are built in great ways to keep the dog's attention focused on it primarily.
There are a bunch of different anxiety toys for dogs, depending on what exactly you are going for. Some are manufactured with treats stuffed in them to draw the attention of the animal. In that way, the canine can rip, nibble, and chew at the treats and channel their frustration, anxiety, and panic on the treats…instead of your furniture and shoes. Which begs the question… How many types of anxiety toys for dogs are there?
Types Of Dog Separation Anxiety Toys
Canines differ from others, and you know yours best. They have different preferences, and some like certain toys and not others. That is why dog separation anxiety toys come in variations to keep your pet most at ease.
Puzzle Toys (these beg the dog's attention and work on a reward basis, best for naughty doggies).
Cuddle Toys (these provide comfort for needy dogs who are more likely old and/or require human touch all the time).
Chew Toys (these are best for dogs that tend to channel their frustration through destroying your belongings)
Undoubtedly, many owners get confused about which category exactly to pick, and if they can even make up their minds about the category, which toy specifically to choose? Here, we have made it easy for you!
Best Dog Toys for Separation Anxiety
We updated this article to add 5 new separation anxiety toys for dogs. So, we select and recommend these toys will help your dogs from separation anxiety. Here's below 10 best selection for separation anxiety toy for dog.
Outward Hound Interactive Puzzle Toy – Plush Hide and Seek Activity for Dogs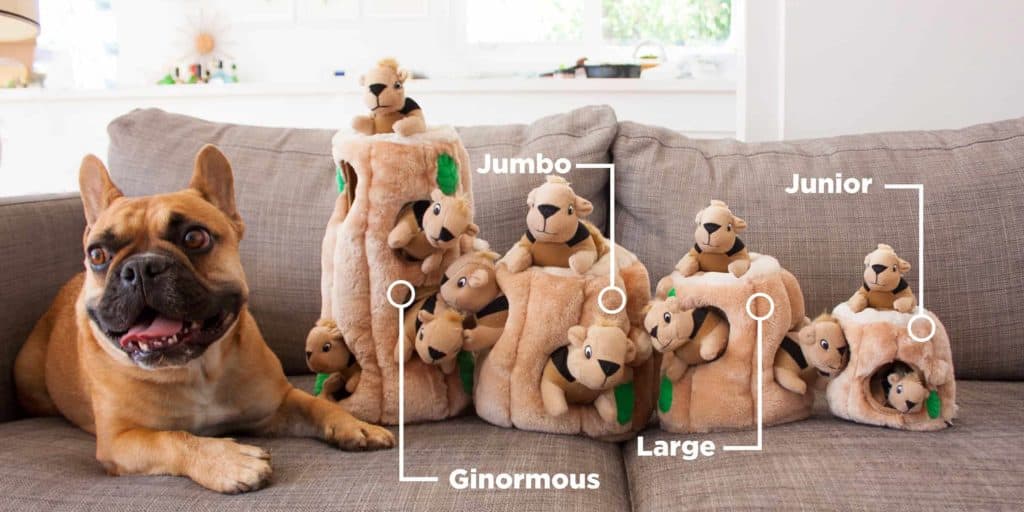 The toy is manufactured with hidey holes for you to hide toys in them, and the challenge for your dog is to retrieve them.
This toy finely intrigues your dog ever, and that's not even the best part. Challenging and brain-teasing, there are obscured squeakers all over the toy, which will definitely attract your dog towards them.
Pros:
Available in all sizes for all size dogs.
Exercises your pet's brain skills.
Place toys of your choice in the structure.
Cons:
The material of the toy is easily ripped and chewed up by the dog.
Choking hazard if the dog ingests the toy's fabric material (nylon).
SmartPetLove Snuggle Puppy Behavioral Aid Toy
The perfect cuddle buddy for your canine when you have to leave him/her alone for an extended period of time, this dog anxiety toy goes above and beyond to comfort your pet. With a pulsing monitored heartbeat incorporated into the body of the toy to resemble that of a human, your dog won't be able to tell the difference.
The purpose of these stuffed animals for anxiety toys is to duplicate the attributes of a human. In an example, the heartbeat as well as a heat pack that provides warmth upon cuddling.
Pros:
Machine washable fabric.
Battery life for the heartbeat lasts two weeks with 24-hour usage (around 330 consecutive hours).
Nontoxic source of heat for pets.
Reduces pet's whining, barking, incessant panting, and restlessness.
Cons:
The heartbeat may be a bit intense for smaller/more sensitive dogs.
Battery operated heartbeat function.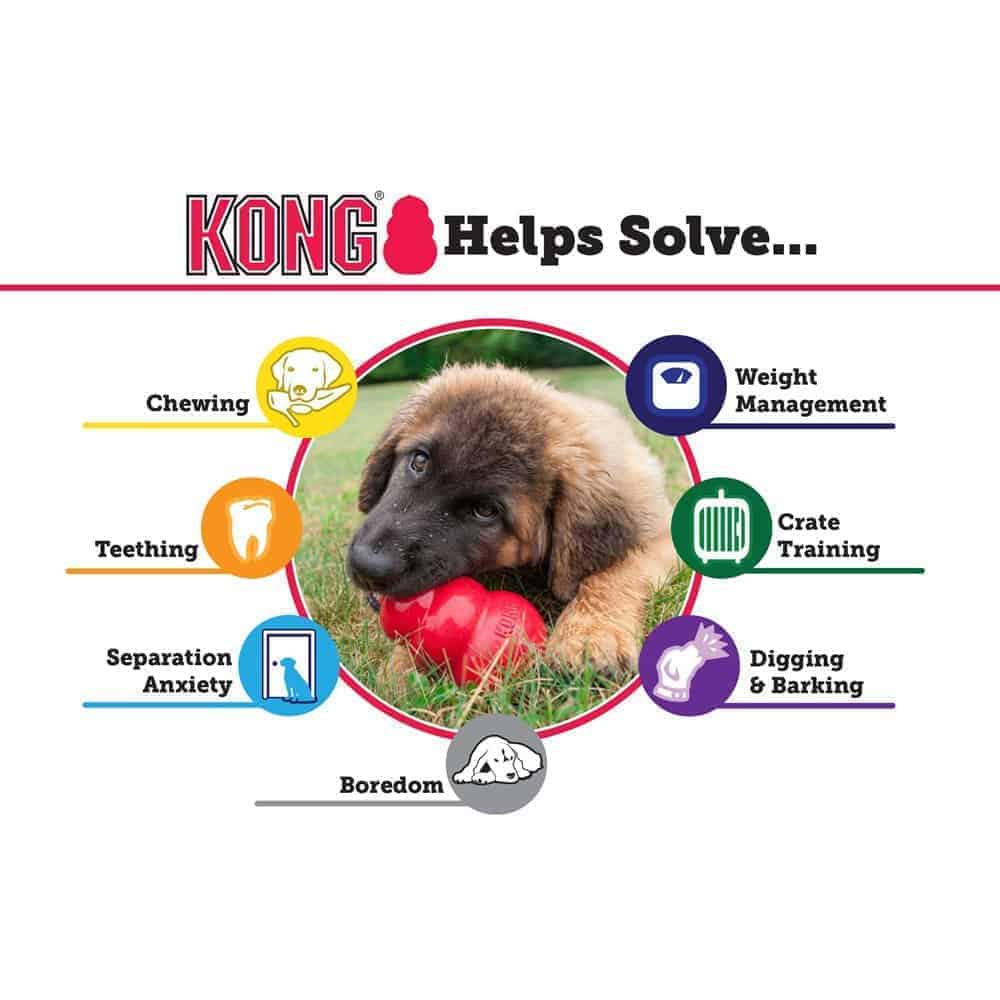 One of the best chew toys for anxious dogs, the extreme canine toy is made to last and provide you with the best experience while it is at it. Made from pure and natural rubber, you do not have to worry about any chemically addled products and/or unnatural substances going into your dog's mouth.
Another great feature about this toy is that you can pack it with tasty treats to help get your dog more immersed in the activity of chewing about it.
Pros:
The biggest of jaws will not tear this toy apart
Perfect for all dogs.
Bounces around as well to keep dogs more engaged
The added feature of packing it with food.
Cons:
Exudes strong and pungent rubbery smell.
Requires some attention and a chunk of your time to clean it thoroughly (getting into all the nooks and crannies is the hardest part).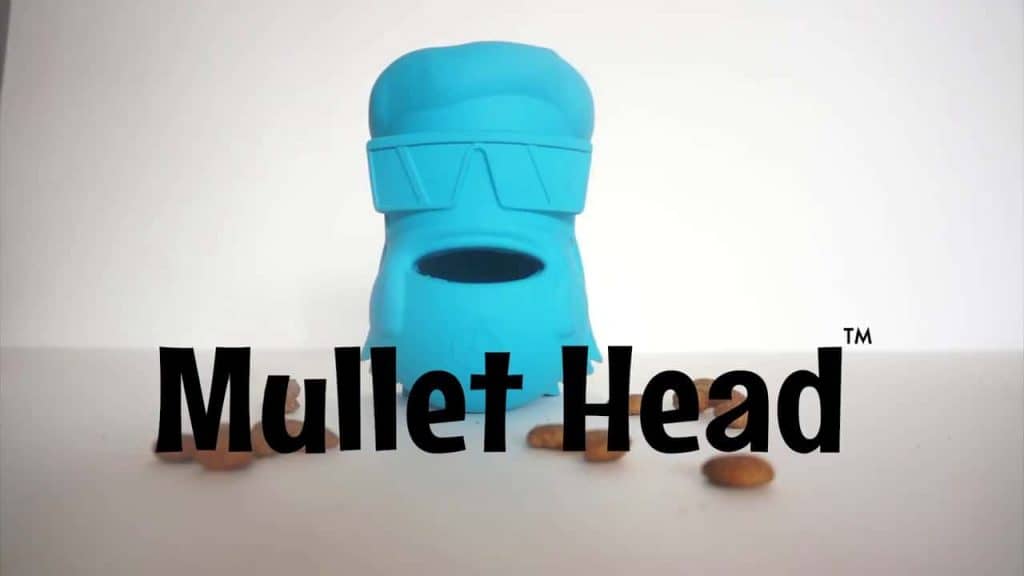 This is another exemplary dog anxiety toy that is 100% made of the safest and most natural material. It looks a bit like a head statue of an 80s rock singer, but that is what makes it the most iconic thing ever. It doesn't remotely look like a toy, instead of a cool home decoration piece.
The hole which is integrated into the body of the toy is meant to be stuffed with your dog's favorite tweets. As the treats fill up all the space inside of this mullet head, your dog will find it incredibly fun and invigorating to scramble around and try to retrieve them. Thus, the activity engages your dog and takes his mind off of your absence.
Pros:
Can also be used as a fetch ball.
Has a huge and spacious vacancy for treats.
The peculiar shaping and styling of the toy helps in making it an impressive specimen for your dog.
Cons:
It is advised not to bring this toy near dogs less than 6-7 months old.
Small treats quickly fall out of it.
KONG SqueakAir Tennis Ball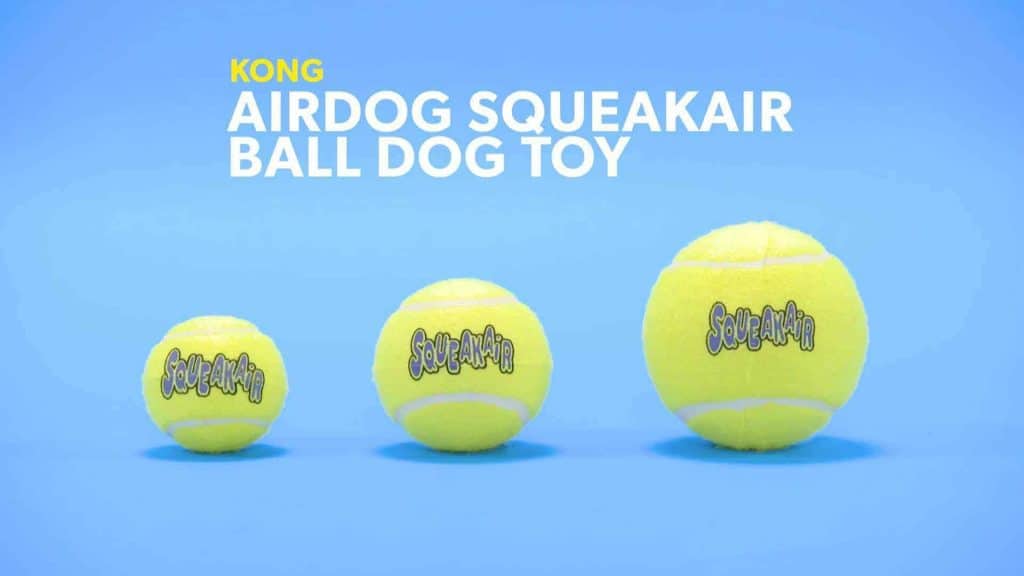 Who doesn't love the occasional classic tennis ball that never goes out of style? Admittedly, not your dog. This dog separation anxiety toy, however, is different than most like it and most tennis balls.
This one is jumbo-sized and persistently releases squeaky noises, which are perfect for keeping it in the center of attention for your dog.
Pros:
Bring a new edge to your classic fetch game with this slightly bigger tennis ball.
Emits squeaking sound that is every dog's top favorite engaging element.
Big enough not to pose a choking hazard.
Cons:
You may find the squeaky sound persistently annoying.
Bigger dogs can easily rip through the ball.
Squeak N Treat Booya Dog Toy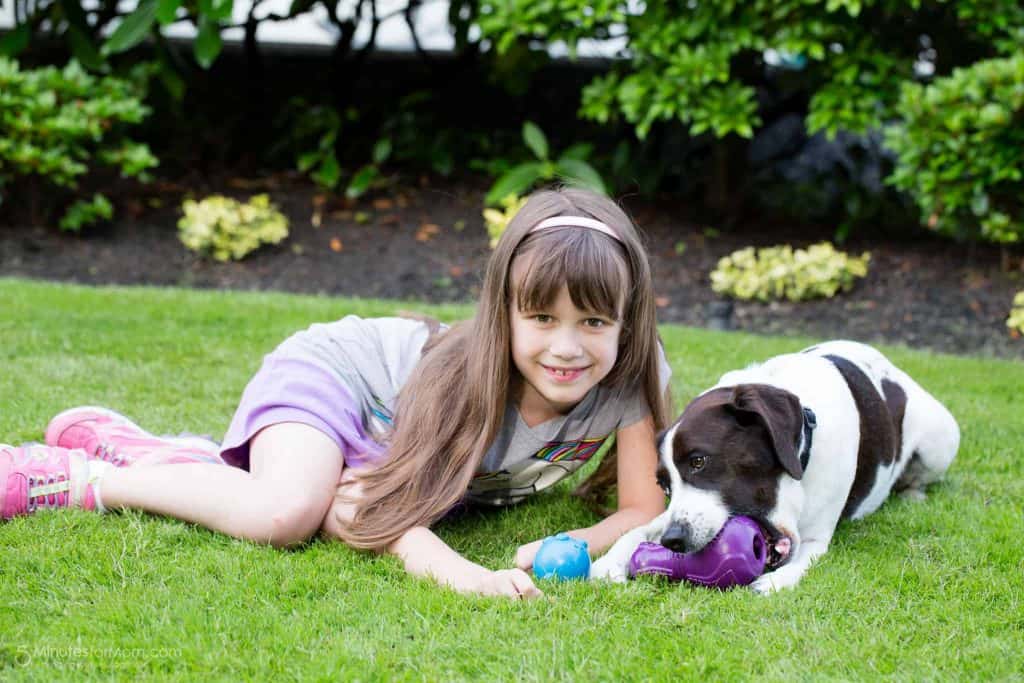 This toy is laced with a vanilla scent, which makes it all the more enticing for your dog to try it out. It is one of those toys for anxious dogs that is perfect for every type of canine regardless of small technicalities.
With the capability to store treats, you can coat its insides with peanut butter or dog food waste to get your pet to be highly involved.
Pros:
Made from a safe and natural material.
Every dog will love it.
Stimulates the dog's mind and busies them.
Cons
Not every dog finds it easy to pick out the treats from this toy.
Busy Buddy Barnacle Treat Dispensing Dog Toy
You have heard of rocket launchers. Now try, treat launchers! This ingeniously designed product is meant to randomly send out delicious treats for your dog to gobble at. The consistent distribution of the treats keeps your dog at their toes, waiting for the next tasty morsel.
With every bounce, this awesome toy sends out a treat flying, and the material used to make the toy is incredibly durable and flexible.
Pros:
Super resistant to biting and chewing of big dogs.
Has adjustable 'hard' levels where you can determine how easily the treats can be removed from within the toy.
Cons:
Holes may seem too small for impatient dogs with big mouths.
Has an overpowering smell of rubber to it.
Treats are very difficultly removed from the toy.
Outward Hound Kyjen Puzzle Plush Replacement Animals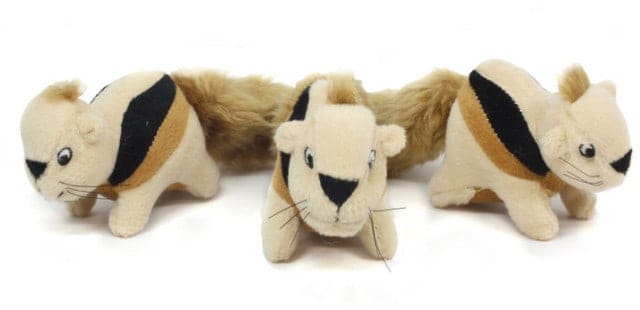 One of the best-stuffed animals for anxiety, this cute item is not only cuddly, furry ad soft but also is a real squealer. Their resemblance with a squirrel could peak your dog's predatory skills and make them want to chase it more. And the best part is, you can use it as a fetch toy in your free time with your dog. But while you are away, your dog will find it incredibly enjoyable to play around with his/ her new favorite toy.
Pros:
Manufactured from durable material that will not tear or rip at the smallest bite.
Releases fun squeaky sounds.
Attracts your dog's attention completely

Cons:
Fur easily comes off.
Choking hazard warning in case the dog ingests the fur.
ZippyPaws Burrow Squeaky Bunnies Plush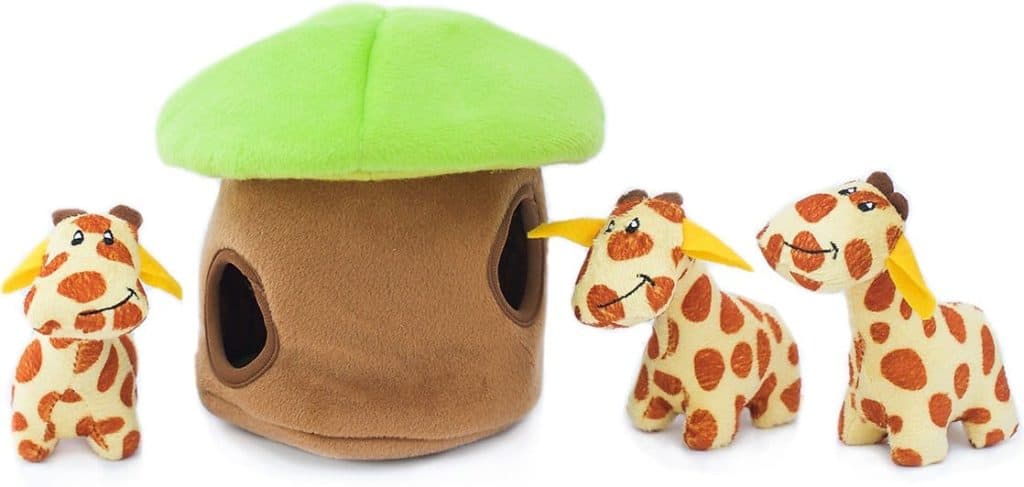 Super adorable and attracting to a dog's eye, these toys for anxious dogs are a combination of 3 squeaky rabbits huddled around a carrot burrow. The burrow has an opening into which you can pack small other toys into it to further busy your dog.
Pros:
Perfect for medium and small-sized dogs.
Squeaker feature in the toy is ideal for all dogs.
Cons:
Very easily pulled apart, dogs can chew through it in a second.
Choking hazard possible if the dog intakes the stuffing inside the toy.
The dog could get his face stuck inside the carrot's hole
PAWABOO Squeak Plush Dog Toys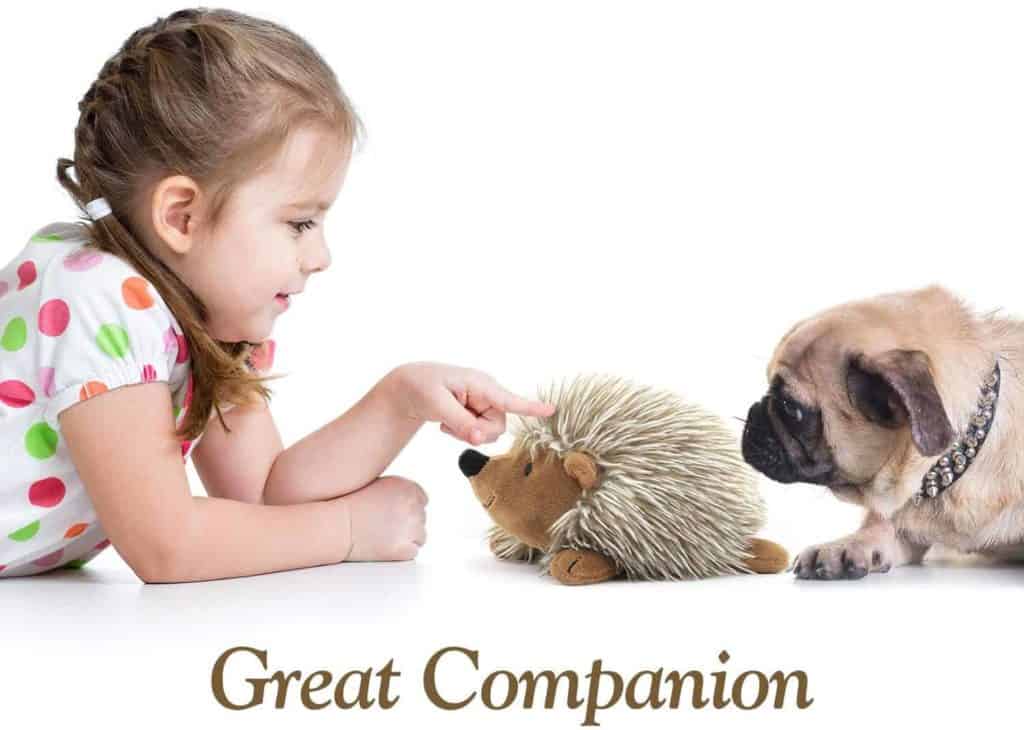 It doesn't get any cuter than these stuffed animals for anxiety-ridden dogs. Plush and super appealing to a dog, the toys take the shape of a hedgehog, which undoubtedly is a dog's favorite thing to chase. The material they are made of is soft and durable, and there are squeakers inbuilt into the toy, making it double attracting to your dog.
Pros:
Double-stitched inseams for a longer life for the toy.
Three layers of inner mesh to keep the stuffing away from the dog (so he doesn't swallow it)
Cons
The toy may come in a variation of plastic eyes; your dog can swallow them.
Not best for big dogs who like to tear apart toys
Separation anxiety in dogs can be a very serious disorder. Fortunately for you, there are plenty of dog toys that you can turn to to ease anxiety in your pet. Try any of the five dog toys mentioned above and you will understand what we mean.