In our last article, we talked about the dos and don'ts of dog Treadmill training. And now, when you know all the ins and out of training your dog to walk on a treadmill, here we tell you the best dog treadmills available in the market. You can use any of these; keeping in view your requirements; and keep your dog active indoor. But before that, let's have a look at the reasons that why you need a treadmill for your dog; what are its benefits; how many types of treadmills are there and what factors you should consider while buying one for your dog. Read on!
Why You Need A Treadmill For Your Dog?
It is no secret that the anatomy of many dog breeds is maximally adapted for an active lifestyle. But, unfortunately, especially in a megalopolis, our domestic dogs are extremely limited in physical activity. The reasons for this are many – the lack of time for active walks with the owners, the sedentary lifestyle of the owner himself, or simply a lack of knowledge about the basic physiological needs of the animal, and the need for movement is one of them.
All this leads to the fact that the dog begins to appear a number of health problems:
excess weight
atrophic changes in the joints and skeleton
heart and vascular problems
problems with the nervous system, etc.
Accordingly, many of these problems can be solved by providing the animal with a LONG level of motor activity. Here the treadmill for dogs comes to your aid (you can use the human one, but you need to choose a model with a reinforced frame and a sufficiently long and wide running belt – for medium and large dogs).
In addition to regular training aimed at maintaining good physical shape, a treadmill can be one of the means of dog rehabilitation after an injury or surgery, when long walks are not yet possible, but the need for movement is already present.
Benefits Of Treadmill For Dogs
The benefits of using a treadmill for dogs are many. Some of these include:
Treadmills are easy on the body: The benefits of using a dog treadmill are many. For entrants, some well-built treadmills offer unique features such as shock absorbing functionality. This feature limits `wear` on your dog's body. This shock absorbing feature is a life saver for pets with ailments, breeds that are vulnerable to joint problems and aging dogs that are in need of softer physical activity.
Treadmills help eliminate excuses: Comfort is the main reason behind the possession of a dog treadmill. It is because of the dog treadmill that you will no longer be tempted to go to training because of the bad state or busy schedules or the bad weather being so easy to give in to. In fact, having a treadmill at home, you can comfortably and systematically maintain the exercise program for your beloved pet.
Treadmills provide control: Contol is another key factor that forces the ownership of a dog treadmill. Staying at home, you can keep control over your pet's training sessions and workout durations. Although it is irrefutable that outdoor exercise has its own benefits that cannot be copied indoors (such as the sun and fresh air), it is also true that a treadmill allows you to monitor things more easily such as consistency and duration of elevated heart rate to burn optimal calories, and training intensity. And as far as the intensity experience of an outdoor workout is concerned, it can be replicated mostly by speed switching and the inclination to give your dog an optimal training session. With that, if you wish to provide a balanced conditioning experience for your dog, it can be achieved through the extended running jog. Make your dog jog for at least 20 minutes. Another good news is that the treadmill will track time for you with the mileage and constant intensity details. All this information will help your pet achieve the best possible conditioning experience. With a treadmill you can also supervise your pet's fatigue level and can also adjust the intensity level as required. An additional benefit of using a treadmill is the low distraction i.e. exercising inside your pet doesn't get in contact with things that interfere with the consistency of his healthy workout.
Treadmills help in training leash: A dog treadmill also helps while training the pet for time with a leash. Some dog breeds, or a dog alone is likely to suffer leash aggression. As in people, exercise releases intense endorphins that can fight depression and relieve stress. The use of the treadmill can allow you to work with your dog on his leash manners and, as a consequence, avoid shameful and embarrassing situations that may occur outdoor.
Types Of Treadmills For Dogs
Treadmills according to the principle of action are mechanical, electrical and magnetic (something in between mechanical and electrical). And among these, there are several other types. But first have a look at the overview of mechanical and electrical treadmill machine.
1. Mechanical dog treadmill
A mechanical treadmill is driven by the power of a treadmill. The use of simulators of this type causes controversy among owners. Some experts deliberately use mechanical tracks to give extra load and teach the dog to push. This feature makes the mechanical track the best choice for training sled dogs.
However, many owners believe that a mechanical simulator is not so convenient, since it is more difficult to teach an animal to use it. In addition, it is difficult to accelerate on mechanics, although load levels can be adjusted on magnetic mechanical tracks.
2. Electrical dog treadmill
The electric treadmill is driven by a motor. Even, budget options have an electronic display that displays the current speed, distance traveled, and training time. It is important that the length of the running belt is sufficient and the dog can completely throw out its paw.
An electric treadmill can allow the dog to develop speeds of up to 12 km / h. In large cities, these simulators are installed in handling rooms and pet centers. There you can use the services of an instructor who will help the owner and the dog to master the track.
Among these, there are several other types of dog treadmills. This further classification is based on the size of the machine, and the size and weight of the dog that uses it. That is, there are treadmills for all dog sizes. Read the details below and figure out the machine best suited for your dog:
1. Small treadmills for dogs
As the name suggests, small dog treadmills are designed particularly for dogs of small breeds such as Shih Tzu, Chow Chow, Show Cocker Spaniel, Chihuahua, and other breeds of similar sizes. In reality, these doggie treadmill for small dogs are small in size. The size that does not occupy much space and can easily be stored. Often, they are characterized by precisely controlling speed settings at very small increments. In addition to that, their inclinations are usually adjustable at small intervals to make it easier for smaller dogs to exercise.
2. Medium treadmills for dogs
These treadmills are designed primarily for medium-sized dogs like Labradors, Greyhounds, Terriers, Beagles and Greyhounds among others. Though they are a little larger than small pet treadmills for dogs, they can also be folded easily for quick storage and instant use. With this difference, these medium sized dog treadmills offer the same speeds and inclinations as that of the smaller tapes.
3. Superior treadmill for dogs
Superior fit treadmills are top-sized canine treadmills. These are best suited for large dog breeds which makes it an ideal choice for kennel owners and professional breeders who wish to provide their pets with greater physical strength.
As large dogs need more exercise that small or medium sized pets, these superior treadmill machines are designed for frequent uses. This makes superior treadmills a nice option for light-weight yet highly energetic breeds that are in constant need for exercise.
The superior treadmills are designed with a great inclination and descent function. In addition, it has adjustable speed control with significant increases. As with small and medium-sized machines, these large dog treadmills can be easily maintained for storage.
4. Professional treadmills for dogs
Professional dog treadmills are specifically designed for veterinary practices, dog training units, and other institutions involved in training dogs to increase their muscles, strength and speed. In general, professional treadmills have the same inclination, decline and adjustment functions as superior treadmills for dogs.
Professional dog treadmills can be used by any dog size and every dog breed, from Chihuahua to the Labrador Retriever or to the dogs of the size of a San Bernardo.
Professional treadmills for dogs are usually large in size and cannot be folded. However, some variants are portable. They are designed with front and rear wheels so that they can be easily moved from one place to another facilitating transport.
Now that you know all the information, what factors you should consider to choose the best dog treadmill for your best buddy?
What You Should Consider When Choose Best Dog Treadmill?
When shopping a treadmill for your dog, there are certain important factors to consider. Of course, the purchase of a canine treadmill must be considered well because it requires investment. Therefore, it is better to choose your dog treadmill model with attention. Here are the most important criteria to consider:
The size: the majority of dog treadmills are designed for large dogs (and adapted to the dogs). Make sure that the treadmill is large enough for your dog… but also that it can be easily placed in your home. A small treadmill is often cheaper, which is good to consider if you have a small dog.
The programs: a quality electric treadmill offers different programs. It is imperative to be able to adapt the speed of the carpet, but also the rate of change in speed.
The safety: check the strength of the carpet and its protection. Panels must protect each side of the carpet. Some mats are also equipped with different attachment points, which allow to harness the dog without endangering its safety (they are particularly useful for introducing the animal to the operation of the carpet).
The height: a good carpet has an adjustable height. This height makes it possible to intensify the difficulty of the exercise. So it's ideal if your canine treadmill aims to train your pet before a dog competition.
Keep all this in mind when choosing a budget for your purchase.
7 Best Dog Treadmill - Reviews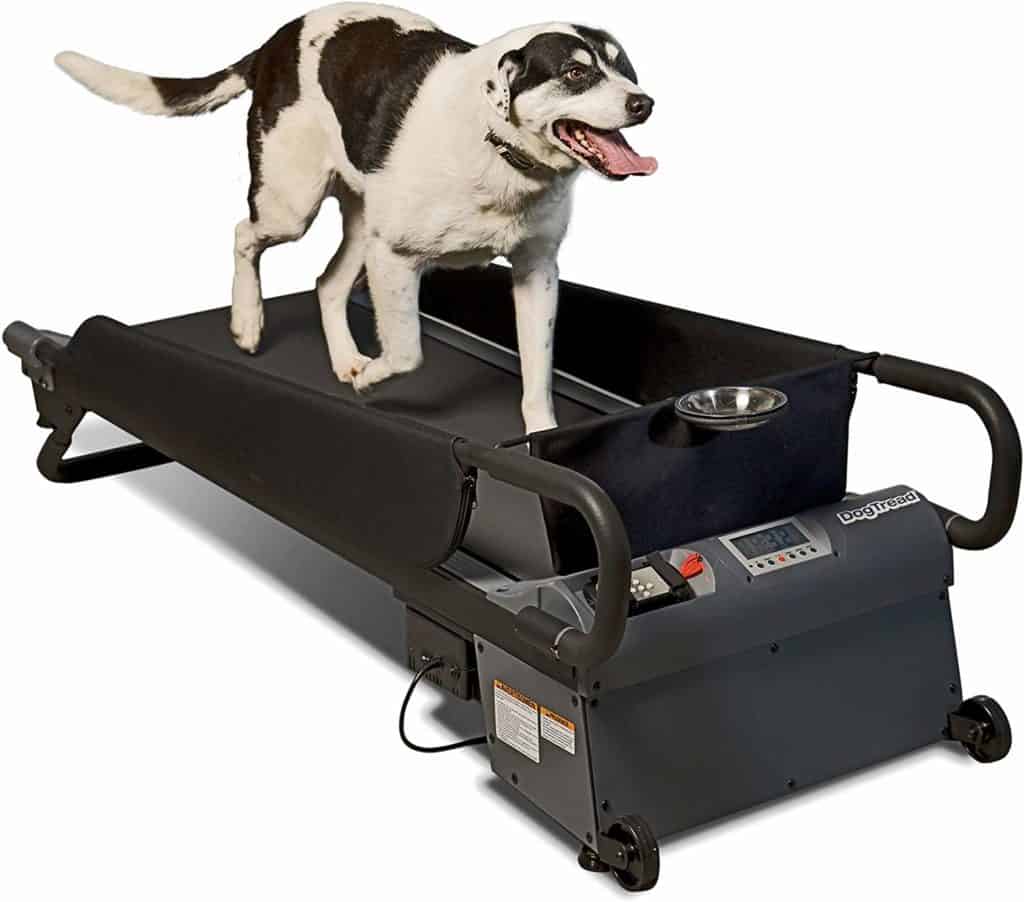 The Petzen dog treadmill is among the best dog treadmills. It is an open and low profile step, which forces the dog to run properly. Very portable and durable, it has a speed of up to 5 mph, random functions, including pre-programmed training types, and due to its flat design that will fit anywhere in the house!
It is available in three sizes: small, medium and large and vary in price from $399.00 to $899.00.
Petzen is one of those companies that really understands the unique relationship between an animal and its people. They know that pets are family members. That is because its objective is to develop products that make the life of our animals as complete and exhaustive as possible. Based on the Wasatch Mountains in Ogden, Utah,
Petzen is committed to innovation and excellence to serve you and your furry companions. Your dog treadmill is equipped with a silent motor, a remote control, complete canine fitness programs, an easy manual pending adjustment, made of steel and ABS plastic. And it has a manufacturer's lifetime warranty on the frame. Tape formats ranging from 29 "to 75".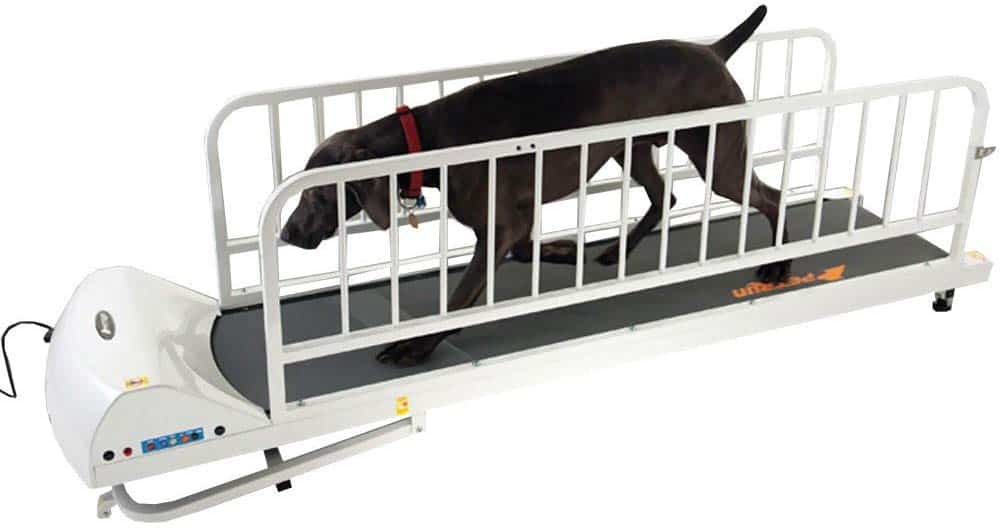 GoPet is the runner-up best dog treadmill. It is one of the best options available in market with seven different sizes for dogs up to 265 pounds; So it is the best option for large dogs. The GoPet dog ribbon line also features the longest length tread, the most prone variable and fastest speed available.
Apparently, you can not ask for anything better because of the options available. Although quite expensive, this GoPet dog treadmill is amazing, and dog owners love it. It has a lot of custom programs, while being stylish and durable, compact, portable and – most importantly – trustworthy. It is without a doubt the best dog treadmill you will find today!
It also comes with the remote operation or very quiet manual drive system, a lower profile for the shyest dogs and folds for easy storage. Prices go from $ 560.00 to the end to more than $ 1,400.00 for the larger size.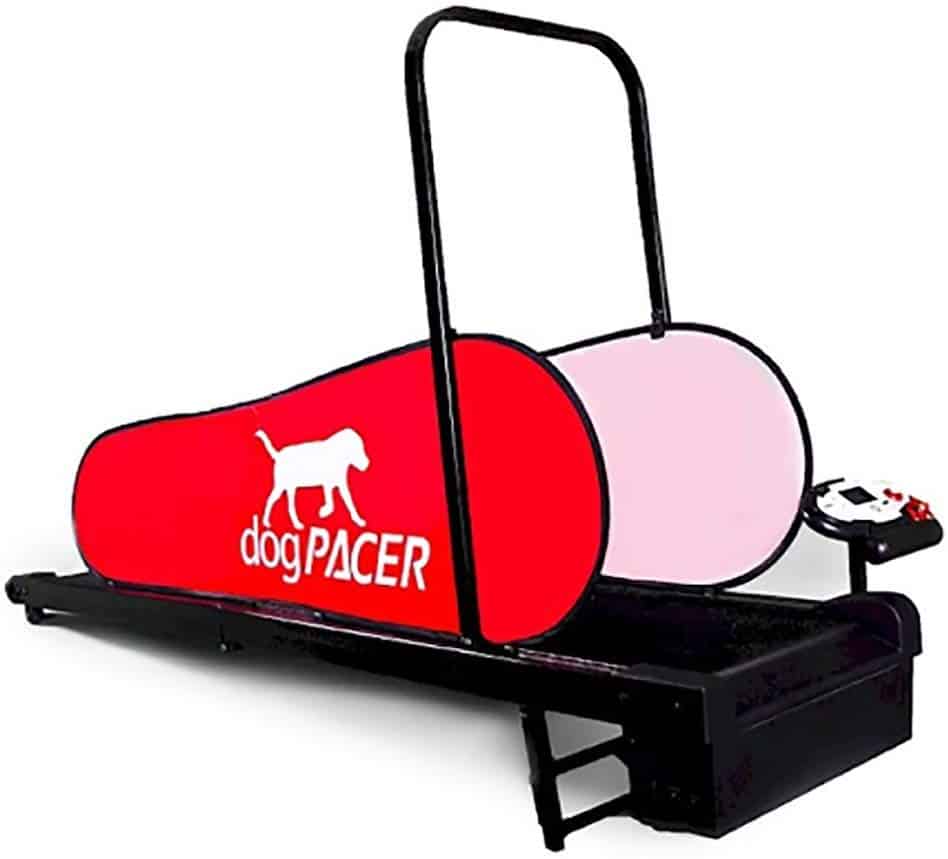 The DogPacer treadmill is well known among dog owners. It is certainly one of the best dog treamills and it is available in two formats – Regular and The Mini version. The regular Pacer dog treadmill can accommodate dogs up to 179 pounds and has a length of 71 cm of the tread whereas Mini Dog Pacer can hold up to 55 pounds and has a length of 36.6 cm of rolling.
One feature that makes this treadmill a prior choice is extra-large side panels employed on both sides of the machine. This side panel ensures dog's safety and the dog does not go running off over the sides of the machine.
The Pacer dog is the newest, and perhaps least expensive, dog treadmill on the market and has a patented folding so it is extremely light and portable. Prices range from $ 499.00 to $ 594.00.
4. Total Pet Health dog treadmill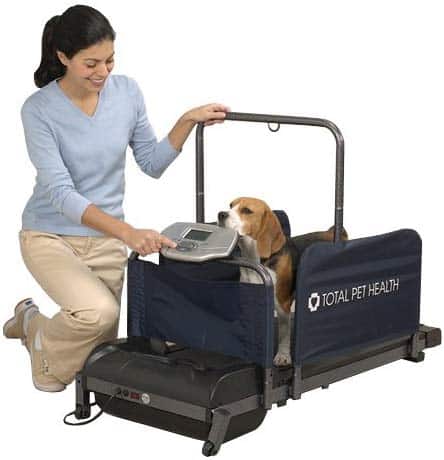 Next comes the Total Pet Health to the list of best dog treadmills. The treadmill is available in two sizes – small and large – and can hold dogs up to 30 pounds and 150 pounds, depending on the size. In addition to that, the Total Pet Health dog treadmills have an electronic display that can be programmed for speed, time and distance; a safety collar that stops the machine if the animal slips or falls, three adjustments of inclination in the large version (without inclination in the small) and includes a one year warranty.
Total Pet Health treadmill provides owners with patio, time and deadlines for a way to exercise their pets. It also provides a safe, dry and waste-free rehabilitation of pets that undergo a surgery.
Prices range from $ 942.00- $ 1,029.00.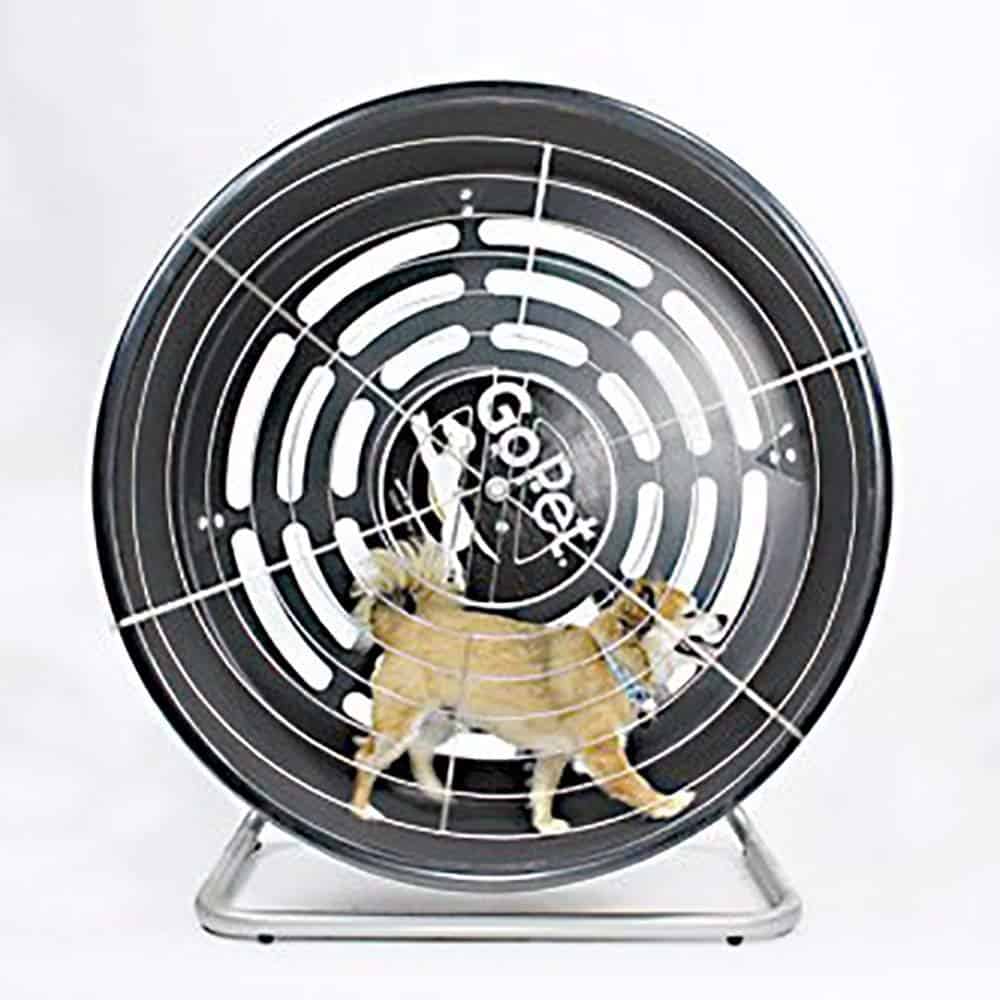 If you have not noticed, this wheel shaped puppy treadmill is amazing for small dogs. The treadmill is a unique product of GoPet and it is designed in three sizes – small, medium and large – and capable of satisfying dogs 25-150 kg. The wheel is different, since it is driven by the dog so that the dog goes at his / her own pace. The wheel also includes a voltage control for added strength and a matte surface running for comfort.
The unit is easy to clean, mildew resistant, UV resistant, making it ideal for exteriors and interiors. Prices range from $ 499.99 to 1,397.00, depending on size.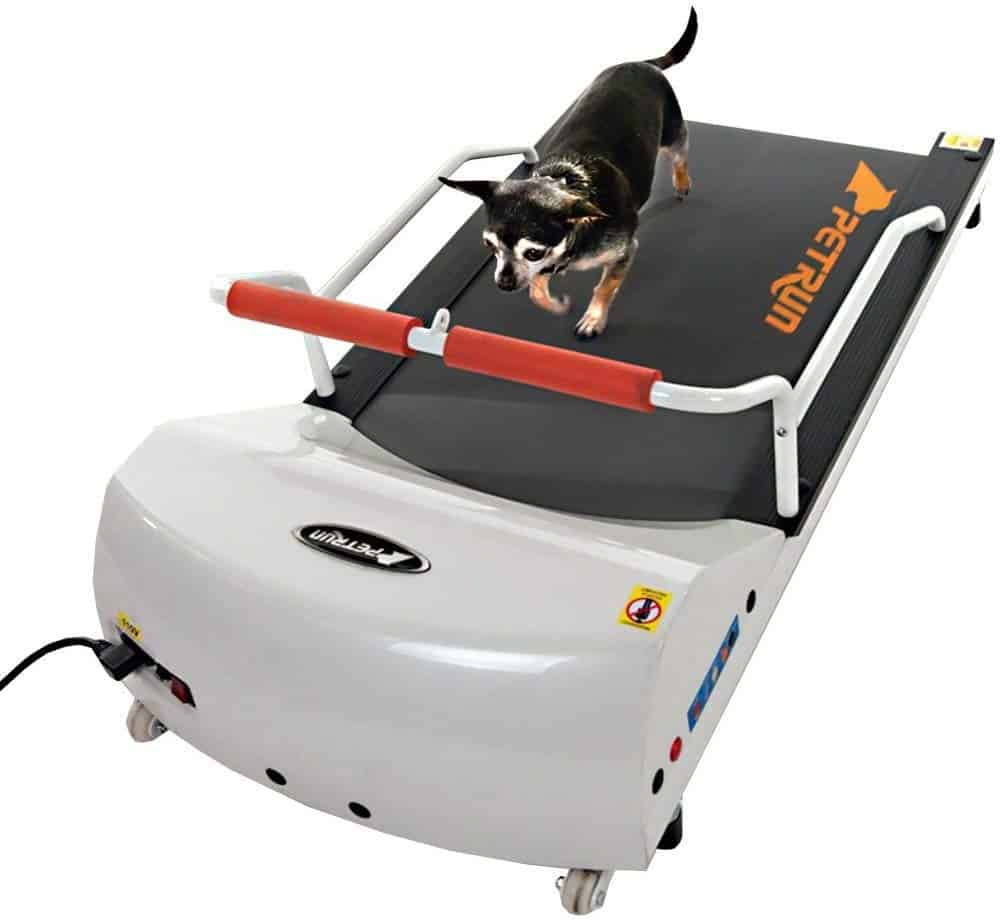 If you are willing to buy the best dog treadmill, do consider PetRun. With a silent driving system for a quiet operation, this treadmill is available is different sizes for both large and small dogs.
The PetRun dog treadmill has the capacity to hold weight of 44Ibs to 175 Ibs and has an easy adjustable incline. With this, the larger version of this treadmill offers a spacious running belt of 71" X 16".
To ensure safety of your pet a gated metal panel is installed on both sides of the machine that keeps dogs on the track.
With so many incredible features, the price of the PetRun dog treadmill ranges from $600 to $1600.
7. Shelandy pet treadmill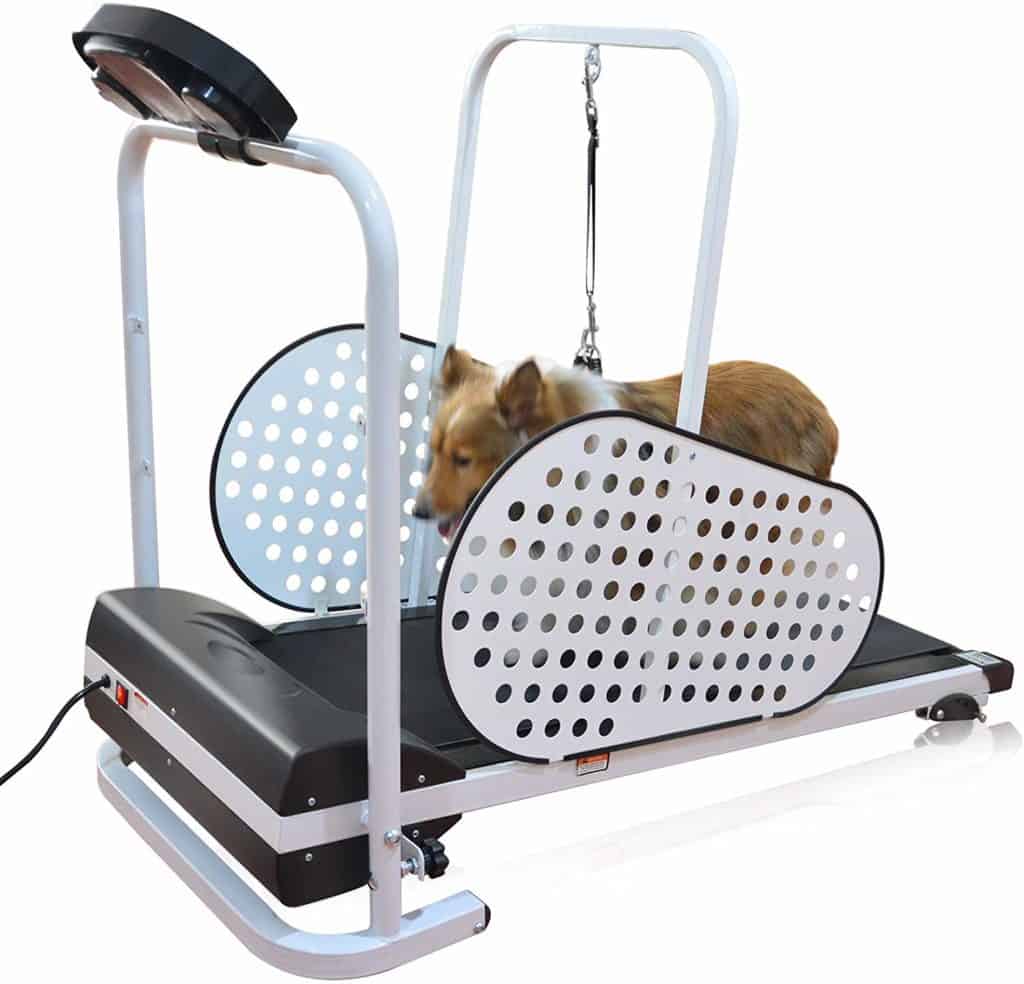 With automatic turn off features and safety bars installed, Shelandy stands firm in the list of best dog treadmills. Shelandy is also known to the budget friendly dog treadmill and offers a variety of helpful features that includes speed range settings from 0.5 mph to 7.5 mph; incline settings from 5 to 9 degrees and a D-ring for harness support.
This pocket-friendly dog treadmill is available on Amazon for only $200.
Basic Tips To Select The Best Dog Treadmill!
1. Treadmill length
Right. One of the most important aspects of the selection of the best dog treadmill is the length of the tread. You want to be sure that the tread is long enough for your dog to get a good pace. To determine the best life of the band, measure your fully extended dog, putting them in a downward position on its side and extending its forehead and hind legs. Next, measure from their front legs to the back legs and you will have a good idea of ​​their stride length. Add about 10 centimetres to your stride length and you will have the right treadmill tread for your dog. Compare your measurements with the individual specifications of the model to determine the best solution.
If you have more than one dog that will use the treadmill, be sure and buy a treadmill with a long tread for your large dog.
2. Weight and load orientation
Treadmills are built for different weights of dogs. To determine the best treadmill for your dog, make sure your dog's weight matches the compensation weight (for example, for dogs up to 50 pounds.) for your specific treadmill. Each walking dog will provide the weight allowed for your reference. And remember, if the tread does not allow to determine your dog's weight, you have to go to a size to allow both your dog's weight, and the length of the tread; and vice versa.
Tips For Using A Dog Treadmill
Putting your dog on a treadmill can be a great dose of exercise indoors. Here are some tips for using a dog treadmill the correct way:
First, let your dog get used to the noise and movement of the treadmill.
After that, put it on the mat and give it a cookie.
After that, you should stand in front of the treadmill with a cookie in hand to encourage your dog to do the exercise.
Gradually increase the speed gradually. If you want, you can use the collar to help. But remember: Never tie your dog to the treadmill.
Also take note that dogs usually associate the walk with the time to do their physiological needs, so before and after putting your dog on the mat is nice to ensure that it pees to prevent it during the activity.
Common Dog Treadmill Exercise Mistakes
Not all of us use treadmills the right way and same is the case with dogs. To avoid these exercise mistakes, here we enlist some of the most common mistakes made on dog treadmill. Take note of these and make sure to avoid.
No warm up before treadmill exercise: As said earlier, one important factor to consider before treadmill exercise is warm up. In case you skip this first step, it may cause injury to your fellow dog.
Cool Down after treadmill exercise: Just as warm up, cooling down after treadmill exercise is equally important. If your dog stops suddenly, it can cause his muscles to stiffen up.
Unmatching pace: The speed of the treadmill should be determined keeping in view the energy, size and age of the dog. Most people fail to determine appropriate speed for their dog treadmill and loose the core objective of this cardio workout which is to enhance their metabolism, decrease their stress and strengthen their entire body.
Jumping off the moving treadmill: Don't ever let your dog jump off the moving treadmill. It can cause harm to them. Train your dog to stay on the leash until it is completely off. For this you can reward them with their favorite treat while staying on the leash. This will help them understand what takes the exercise to an end.
Repetitive workout: Repetitive workouts don't bring anything good for your dog. Hence, it is advised to mimic real time walking experience for your dogs by changing pace of the treadmill at intervals. You can also change tape inclinations to make treadmill exercise fun for your dogs.
No fun fitness: Help your dog enjoy their treadmill workout instead of making it an unpleasant experience for them. During the treadmill exercise, stay close to your pet and keep talking to them. You can also offer them their favorite treats on the leash. Not only that, play with your for some time after they cool down so they don't miss walking on the street with you.
Binding dog with the treadmill: Forcing dogs to exercise on a treadmill, most people tie their dogs with the treadmill. It is one of the worst mistakes. Let your dog walk freely on the treadmill. Certainly, you need a lot of patience to train them, but tying them is not a solution,
Frequently Asked Questions And Their Answers (FAQs)