The Man's Best Friend, a dog is known for its commitment and attachment to its human family. Used by us in many ways, dogs become eyes for the blind, guards for the house during the nights, playmates for the children, cuddle mates when unwell, hunters when out with the family hunting and guardians when we desperately need one, and sometimes, soul mates on whose shoulders we could lean onto and pour our hearts out.
The Best Dog Bed For Your Best Buddy
A key member of most of the families they are a part of, dogs deserve the best just like us humans, be it concerning food, hygiene, and vaccination or health care. A comfortable Orthopedic bed for dogs is something even dogs would appreciate, given they too feel muscular pains and grow old. With plenty of choices available in the market today, here's a simple guide on what to look for while deciding on a perfect dog bed for your canine friend.
What is an Dog Orthopedic Bed?
Dogs orthopedic beds are mattress style beds that are made especially for our canine friends to sleep in with extreme comfort and relaxation. Extremely lightweight and easy to carry, these mattresses, usually made from memory foam (but not mandatory to be called one), are designed to comfort and support the various muscles and joints of the dogs while they are resting.
Why do you need to buy an orthopedic bed for pet?
Orthopedic dog beds are especially recommended for dogs that are growing old, have undergone surgery or are suffering from any disease, mainly if they are diagnosed with arthritis. For the blind love that dogs shower on us, the least we can do is to provide them with some comfort when they need it the most. Besides, you should also know that our tail-waggers are usually extremely territorial and would much appreciate a bed they can call their own space.
Also, from a health standpoint of view, with a separate bed for your furry friend at home, you are also limiting the spread of dirt, hair and pet dander only to the doggie bed and preventing the same from spreading onto your furniture and bed. However, these dog beds are not necessarily for the old and the unwell dogs alone. Dogs which are incredibly skinny and have hardly any flesh or fur on their shoulder, elbow and hip joints would much appreciate your buying them these comforters. You know you need to gift your four-legged friend a comfortable bed when:
They get restless in their existing bed and toss and turn a lot.
Wake up and move very slowly, despite enjoying long hours of sleep on the couch.
Are they uncomfortable to get into their existing bed and equally nervous coming out?
Prefer sleeping in your bed or sofa rather than their bed.
You know your dog has a health issue that requires that extra support.
How to Choose Dogs Orthopedic Beds?
Like mattresses for humans, dogs orthopedic beds come in various shapes sizes and aesthetics. Like humans again, pet beds are equally important and not necessarily a luxury, as assumed by many. So many choices are available that it can sometimes be confusing. Here are specific tips that can help you figure out which pet bed would be ideal for your pooch friend.
Types Of Dog Beds Available
Many kinds of beds are available in the market to choose from. However, the following are the most commonly available beds in the market and also the most sought after patterns when it comes down to types of dog beds.
The orthopedic dog bed is just one variety of beds that are available in the market to choose from for your favorite canine. Besides these extra comforting and supportive beds, there are other options available as well.
Pillow style pet bed: Ideal for your pets that love to just spread themselves out onto their beds, the pillow style dog bed or the cushion style dog bed comes in various sizes, and you can choose based on the size of your four-legged friend.
Doughnut and Bolster dog beds: Ideal for those dogs that love to rest their heads on a raised cushioning or for those who love to lean against something for more security, these beds come in various sizes and with extra cushioning around the sides of the bed. It designed like a mini sofa, and this bed can be easily accommodated in the living room or bedroom, depending on your dogs (and your) preferences.
Heated dog beds: This feature is meant to provide with extra heating to your dogs for a comfortable sleep, these beds are best suited for those dogs that lack the fur coat over their skin to help retain heat during freezing climates. Also beneficial for dogs with joint pain, these mattresses help relieve pain with the gentle warmth that the mattress produces.
Outdoor Beds: Usually made out from waterproof and weatherproof material, these beds are ideal if you have a dog that prefers to sleep outside the house or you prefer the dog to spend nights outside the home. Usually made like a cot, so the mattress remains off the ground, these provide extra comfort to your four-pawed friend while they are busy protecting your house on the outside while you sleep within.
Importance of Appropriate Size of Dog Bed
Once you have identified the type of bed that best suits your taste as well as your dog's taste, the second most crucial aspect is to identify the appropriate size of the bed. The size can be determined by keeping the following in mind:
Size of the Dog: A tall and lanky dog will require a huge bed while a small dog could comfortably sleep even in a pillow bed.
The weight of the Dog: Simply put, the heavier the dog, the more the cushioning that would be required for additional support.
Style of sleeping: Dogs that generally love to curl up and sleep in a smaller sized bed as the smaller size with walls closing in may help give the extra comfort to the curling dog. On the contrary, a dog which is hyperactive and keeps moving requires a more durable and more massive bed in comparison. It is best to spend some time observing how your dog sleeps before identifying the type of bed you would need to purchase.
Budget, decor, and availability of space: It all finally also boils down to the space that one has where the bed needs to be placed and the budget you can spare for making this purchase. Equally important is to keep in mind the decor of your house and pick up a bed that will gel well with your existing furnishing and not stands out like an eye-sore.
Ease of Cleaning The Bed
One of the most crucial aspects to consider while purchasing small or large breed dog bed is the ease to clean the bedding, especially if the dog is an outdoor loving animal. With the dangers of dog hair, dirt and pet dander, it is essential to clean the beds regularly. This also helps keep the pets healthy and hygienic. While purchasing the dog beds, insist on beds with removable covers that can be washed and refitted again after drying. Too lazy to remove the covers? Then there are even washable beds available in the market, and you just take a pick.
The Associated Aesthetics
Like spending the time to select even the smallest item for the house, one needs to keep in mind the aesthetics of the place where the pet bed will be placed before purchasing the bed. Usually the color of the bed can be changed to match the aesthetics of the house; however, in some cases, even a difference in design could lead to the bed standing out like an eyesore. Evaluate the aesthetic value of the product as well while measuring the comfort the bed would bring to your wagtail.
Last But Not The Least, Price Of The Bed
As already discussed, despite everything being a tick in the right places, everything would be futile if the product does not match the budget set for the bed. While going out to purchase a dog bed, have a figure in mind and make sure you check for products that match the budget you have in mind to stop from overspending.
You are still confused about what would make an ideal gift for this 4-legged friend of yours? Not sure whether the bed you like would be appreciated by this 'Man's Best Friend' in your home? Worry not, for we have here for you our top picks for orthopedic dog beds review together with their pros and cons.
Our Top Picks For Orthopedic Dog Beds Review In 2021
Best Orthopedic Dog Bed For Large Breed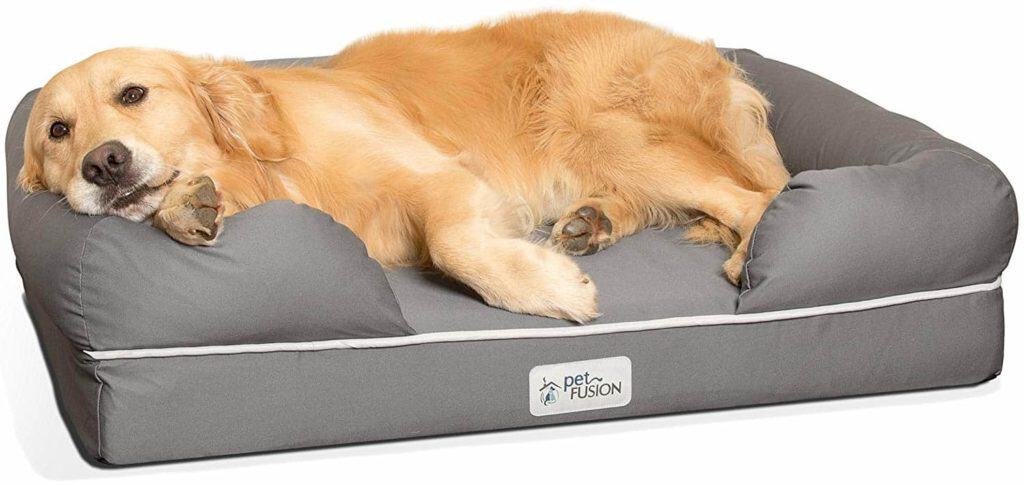 One of the favorites among people looking for dog orthopedic beds on Amazon.
This ultimate pet bed from the house of PetFusion comes with a 4-inch memory foam base and a smart design.
PetFusion presents this beautiful pet bed delivered to your doorstep, but also get two years warranty on the product.
Available in three colors and four sizes to choose from, this ultimate dog bed has options to match the aesthetics of your house and the length to choose from, depending upon the size of your furry friend.
Together with the available size and features, this large dog bedding is suitable for large breeds.
Why Should you buy this product:
Comes with a solid 4-inch base and anti-skid bottom, which provides maximum relaxation.
Comes with a smart design with bolster support all rounds for maximum security to the dog.
With its removable covers that are also water-resistant and tear-resistant, it is effortless to clean the sheets.
Key Features of PetFusion Ultimate Dog Bed:
Covers certified as 'skin contact safe.'
Made from memory foam, one of the best materials for comfort.
Comes with 24 months manufacturer's warranty.
Made extremely breathable with 65% polyester and 35% cotton fabric.
Pros
Cons

Available in multiple sizes and colors.
Made from Memory foam to provide maximum comfort and support to dogs.
Comes with waterproof lines and breathable fabric with 4-inch mattress, extremely comfortable

Made from memory foam, and the mattress can be expensive.
With the bolsters already filled into the cover, it may not be possible to clean and could form lumps after some time.

The Best Orthopedic Bed For Small Breed Dog
Available in 5 different colors to choose from together with four different sizes to select from, this orthopedic dog bed comes with a 4-inch memory foam base and designed like a lounge sofa. The external cover made from 100% suede, it merely looks classy and fits right with any decor in the house.
With a water-resistant liner and with attention being given to the comfort of the dog while it sleeps, this ultra-premium dog bed, together with its bolsters is an ideal bedding solution for dogs of the small breeds.
Why Should you buy this product:
With the choice of colors and sizes, you can practically handpick one that goes well with your ambiance.
With 4-inch memory foam, Suede cover and lounger design, it looks and feels luxurious.
Removable covers, bolster support and memory foam will provide maximum comfort to the dogs' joints.
Key Features:
Made from human grade memory foam.
Plush poly-fil bolsters provide extra support to your dog.
The fabric used for the cover is fur and hair resistant.
Pros
Cons

The cover for the bed is fur and hair resistant.
Memory foam and poly-fill bolsters provide maximum comfort and support to dogs.
The anti-skid and anti-slip cover is fur and hair resistant, tear resistant and is easy to care for.

The product comes with an only one-year limited warranty.
If washed very regularly, the anti-skid shoes at the base of the fabric may peel off.

The Best Dog Bed For Arthritic Dogs
It designed keeping in mind the large and extra-large dogs in the family. This 7" pillow best dog bed for arthritic dogs has been calibrated for large and giant-sized dogs, however, given its design and layout, is ideal for all sizes of dogs. Available in 3 sizes and four colors, this foam bed from Big Barker even provides a ten-year warranty on the product with the promise of a money-back if the mattress loses shape.
Why Should you buy this product:
Guarantees peace of mind with the 10-year money back warranty on the product foam.
It made from Therapeutic foam, the product would remain as is for a long time to come.
Removable cover which is easy to wash and maintain.
Key Features:
Hand made by craftsmen in the US.
It made from therapeutic foam, promises absolute pleasure and comfort to your pet.
Fabric made out of 100% microfibre, easy to maintain and clean.
Pros
Cons

The base foam comes with a 10-year cash-back warranty, giving you complete peace of mind.
It made with therapeutic foam and 100% microfibre, the product is calibrated for long life.
With the unique headrest design, the bed is extremely comfortable and can be placed anywhere.

Available in large size, this product may sometimes occupy a large space unnecessarily.
The Foam comes in one standard firmness, which may not be the most comfortable for all dogs.

Best Dog Bed For Hip Dysplasia
This grey orthopedic bed for pet will be an absolute sleep partner to your four-pawed friend at home. With its sleek and luxurious quilted design, extra padded comfort cotton rim and a firm base with an anti-skid layer, this grey beauty are designed especially for hip Dysplasia. With the Ultra-soft polyester cover, 4" grooved orthopedic foam and extra comfortable cotton padding rim, this mattress not only provides an excellent value for money but also will earn you extra brownie points with your canine friend.
Why Should you buy this product:
Ideally designed for dogs suffering from Hip Dysplasia.
Grooved orthopedic foam base offers extra relaxation to the dog's muscles and joints.
Removable cover which is easy to wash and maintain.
With its quilted design, this dog orthopedic bed can be used for one dog or many small dogs.
Key Features:
Made with superior grooved orthopedic foam
Washable cover with extra cotton padding on the cushion for extra comfort.
Pros
Cons

The product is ideally designed for dogs suffering from Hip Dysplasia.
With a quilted design, the product looks and feels exceptionally comfortable.
Anti-skid and economically priced, the product is an excellent value for money.

Not available in extra large sizes.
With a cotton padding, the fabric may lose its shape over some time and may even tear.

Best Low-Budget Orthopedic Dog Bed
With varying price range, this is one of the best low-budget dogs orthopedic bed one can find in the market. With five sizes and six colors to choose from, this Furhaven pet bed can provide your dog with its very own sofa cum bed and fit into your house's ambiance as well. The covers made from faux fur fabric makes the bed extraordinarily soft and comfortable for the dogs to sleep on and the bolster lining all around offers absolute confidence and support.
Why Should you buy this product:
Comes in various sizes and colors to chose from.
With multiple choices to choose from, this dog bed is an ideal pocket-friendly purchase.
Removable cover which is easy to wash and maintain.
Key Features:
It made from faux Fur fabric, and the sleeping surface is exceptionally comfortable for the dogs.
Washable cover, sofa design, and various colors help anyone find an ideal fit.
Pros

Cons

One of the most pocket-friendly products available in the dog bed.
Sofa design and Faux fur fabric makes the material extremely comfortable for dogs.
Anti-skid and economically priced, the product is an excellent value for money.

The medical-grade solid orthopedic foam base is dense and thick, which may not be liked by all dogs.
The rims are filled with 100% recycled fluffy fill, which may not remain intact forever.

Best High-End Dogs Orthopedic Beds
With reasonable price and Runyon Pet Bed material, this is perhaps one of the best high-end dog bed on Amazon, an orthopedic dog bed. Made from 2" gel memory foam layer together with its 2" therapeutic base foam that is also CertiPUR-US certified foam, this dog bed is a perfect blend of luxury and quality. With the use of non-toxic material for dogs, this dog bed offers complete orthopedic support to the dogs and also showcases the quality and artistry, making it one of the most high-end dog-bed.
Why Should you buy this product:
Exceptionally well crafted and looks very rich, will gel well with the luxurious ambiance of any house.
Made form CertiPUR-US grade foam, the quality speaks for itself.
Key Features:
Made with CertiPUR-US certified foam, this product is all about class and quality.
Dog-friendly materials make this dog bed one of the most dog-friendly bed.
Pros
Cons

Incredibly luxurious and perfect high-end dog bed.
Sofa design and the 2" gel memory foam make the bed extremely comfortable for the dog.
Quality build, easy to maintain material, waterproof layer makes this product extremely durable.

Very expensive and may not be worth the value for money for many.
Limited colors sizes, not available for extra-large dogs.

Best Dog Beds For After Surgery
With its unique double layer protection and its unique HYPO-ALLERGENIC PREMIUM MEMORY FOAM, this orthopedic bed for a dog is an ideal fit, especially if your dog has recently undergone a surgery. Together with its premium memory foam and plush soft suede cover, this cushion designed dog bed together with its pillow on one side offers extreme comfort to dogs suffering from arthritis as well. With three colors and two sizes to choose from, this beautiful dog bed will be shipped to your doorstep and help you provide your loving dog that extra comfort at home.
Why Should you buy this product:
Ideal for dogs that have recently undergone surgery.
Made from HYPO-ALLERGENIC PREMIUM MEMORY FOAM, this product is also one of the safest best for your dogs.
Key Features:
Made from HYPO-ALLERGENIC PREMIUM MEMORY FOAM, this bed is anti-allergic.
Double layers of fabric help maintain the product longer and provide comfort to your dog when it needs your care the most.
Pros
Cons

Made with HYPO-ALLERGENIC PREMIUM MEMORY FOAM, this product is ideal post-surgery.
With a cushion design with a bump on one end like a pillow, the bed offers extra support.

Available only in large and extra large size.
The memory foam comes with standard tension making the bed a little hard for the comfort of some dogs.

The Best Dog Beds With Cooling Feature
One of the best products in the market, this cooling gel of memory foam pet bed made by dogbed4less comes in 10 different colors and seven different sizes, making this product the best pet bed which also helps keep your dogs cool, even in scorching climate. Ideal for dogs of any size, this bed comes with two layers of covers, is durable and also provides orthopedic support to your canine friend together with keeping it cool.
Why Should you buy this product:
It made from memory foam, the product gives excellent orthopedic support to the dog, and the gel cooling memory foam offers a cooling effect to the dog while relaxing.
It designed like a flat cushion, this dog bed can be laid anywhere and can be used for dogs of any size.
Key Features:
It made with gel cooling memory foam, this bed offers ultimate comfort to the canines, especially in warm climate areas.
With two-layer covers, the product is long lasting and is easy to maintain. The fabric is also machine washable
Pros
Cons

Not only does this memory foam dog bed offer body support, but it also provides a cooling effect on the dogs.
Double layer of cover, memory foam that will not tear or change shape, this product promises long life

With no bolsters of cushions around the bed, this bed may not provide the extra height the dog may want to place its head in while sleeping.

With the canines not just being pets, but a part of the family, every owner would love to provide only the best to this most loving and faithful member of their family. With old age and diseases that could plague our canine members, this extra comfort and care becomes that much more important and is greatly appreciated by the dogs.
Buy the very Best for your Canine friend
With this comprehensive listing of the best dog beds available now on Amazon. Together with the do's and don'ts you might need to keep in mind while selecting the best orthopedic mattress for dogs. Hoping that you would be able to make a better and more informed choice now and provide the 4 legged family members with space and bed of their own.